After spending an amazing few weeks in central California it was time to head down to one of my favorite events of the year. The NAMM Show at the Anaheim Convention Center. For the passed few years I have had the honor and privilege of going as an artist and spokesperson for the amazing McPherson Guitars.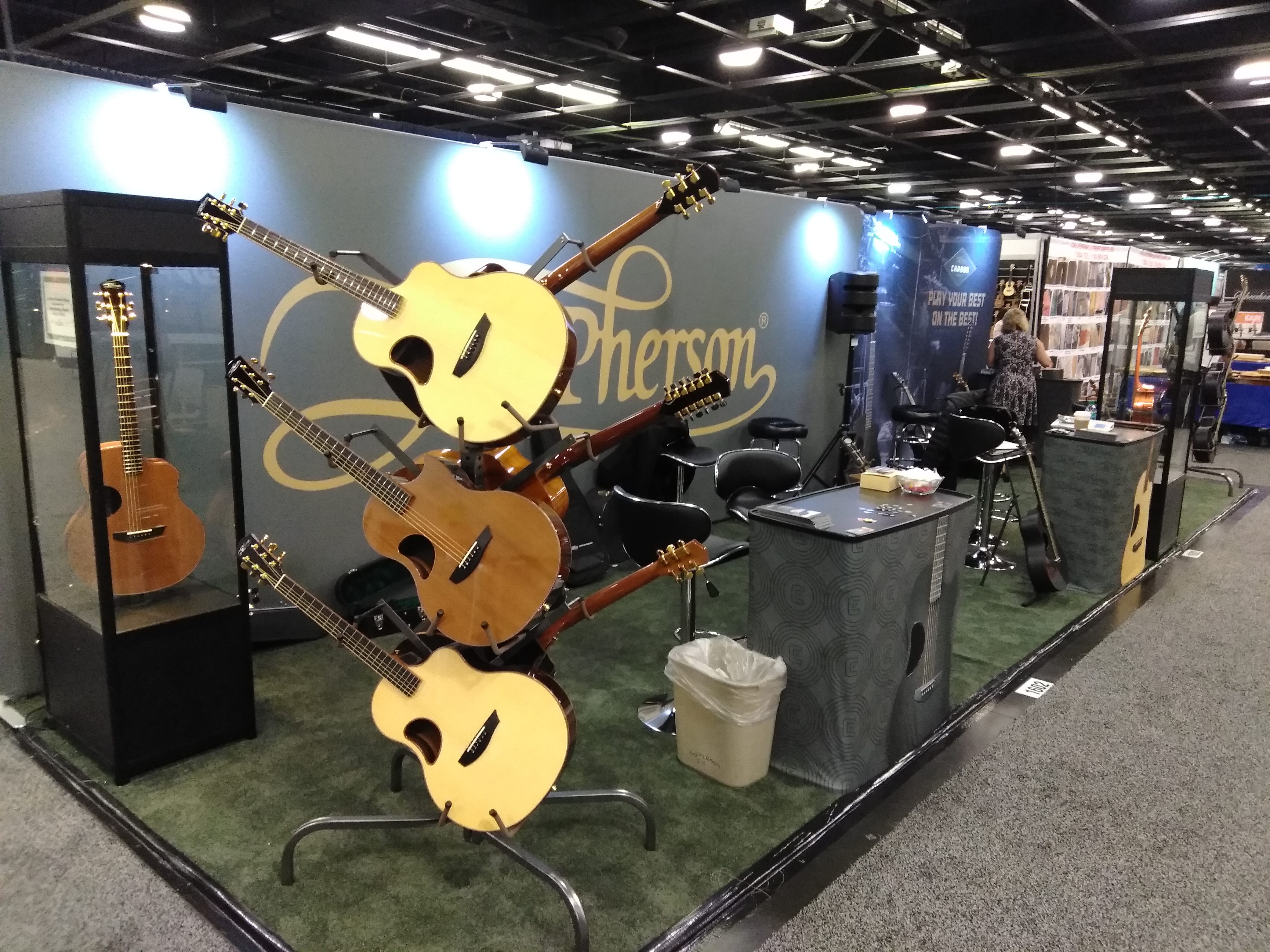 During these shows I have had some amazing opportunities to perform with and befriend some of my biggest musical influences! This year a couple highlights where being able to play guitar with Bruce Carol, Dave Cleavland, Dave Baker, and Bernie Williams. Four Giants in the music buisnbus.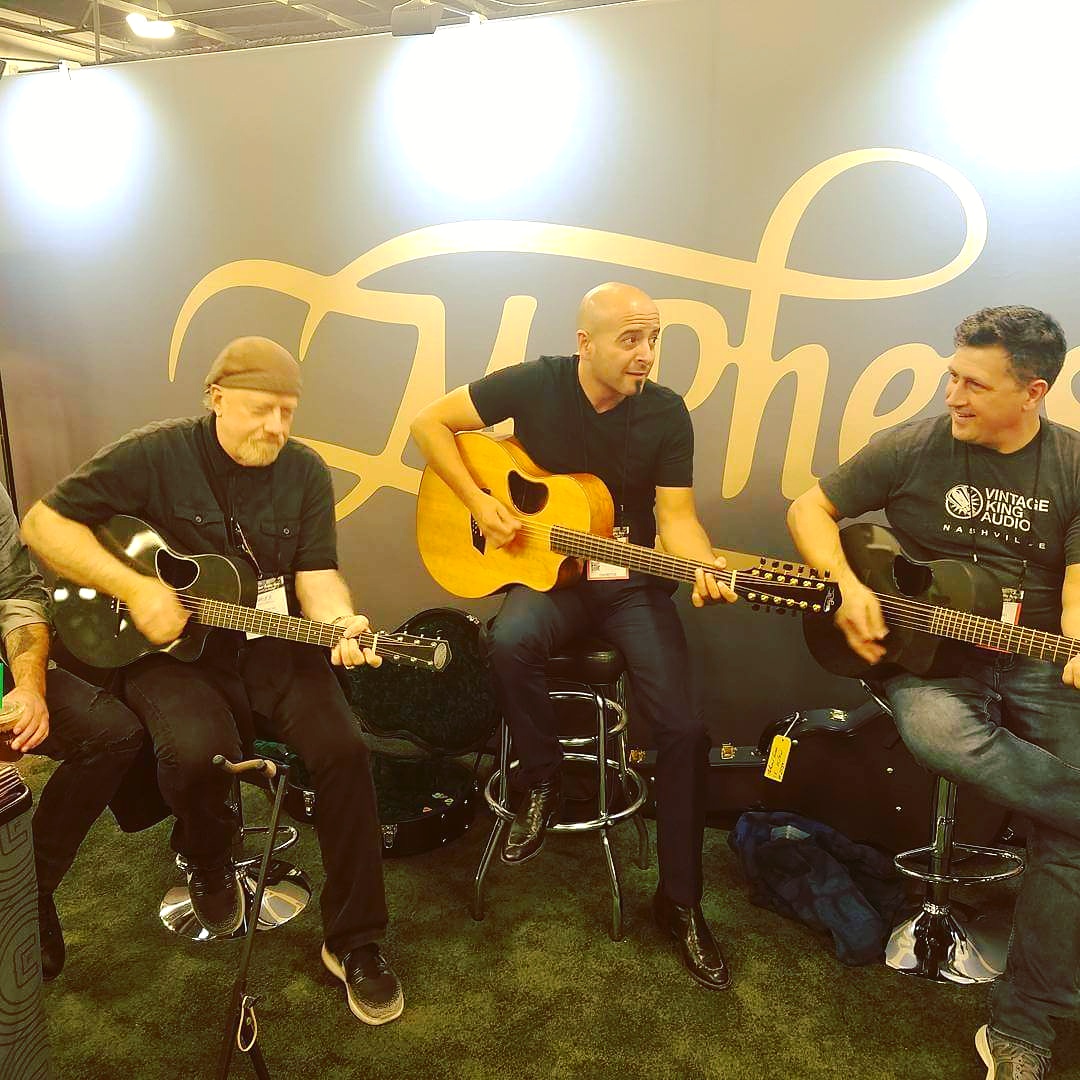 It was the learning experience of a lifetime! I sat back, opened my ears, and let the teachers teach! There is no where else in the world where you can get this type of connection and education from The Best of the Best! I don't know how I ended up in this position, but I'm going to learn as much as I possibly can during these events. Here is a snap shot of Bernie Dave and I ...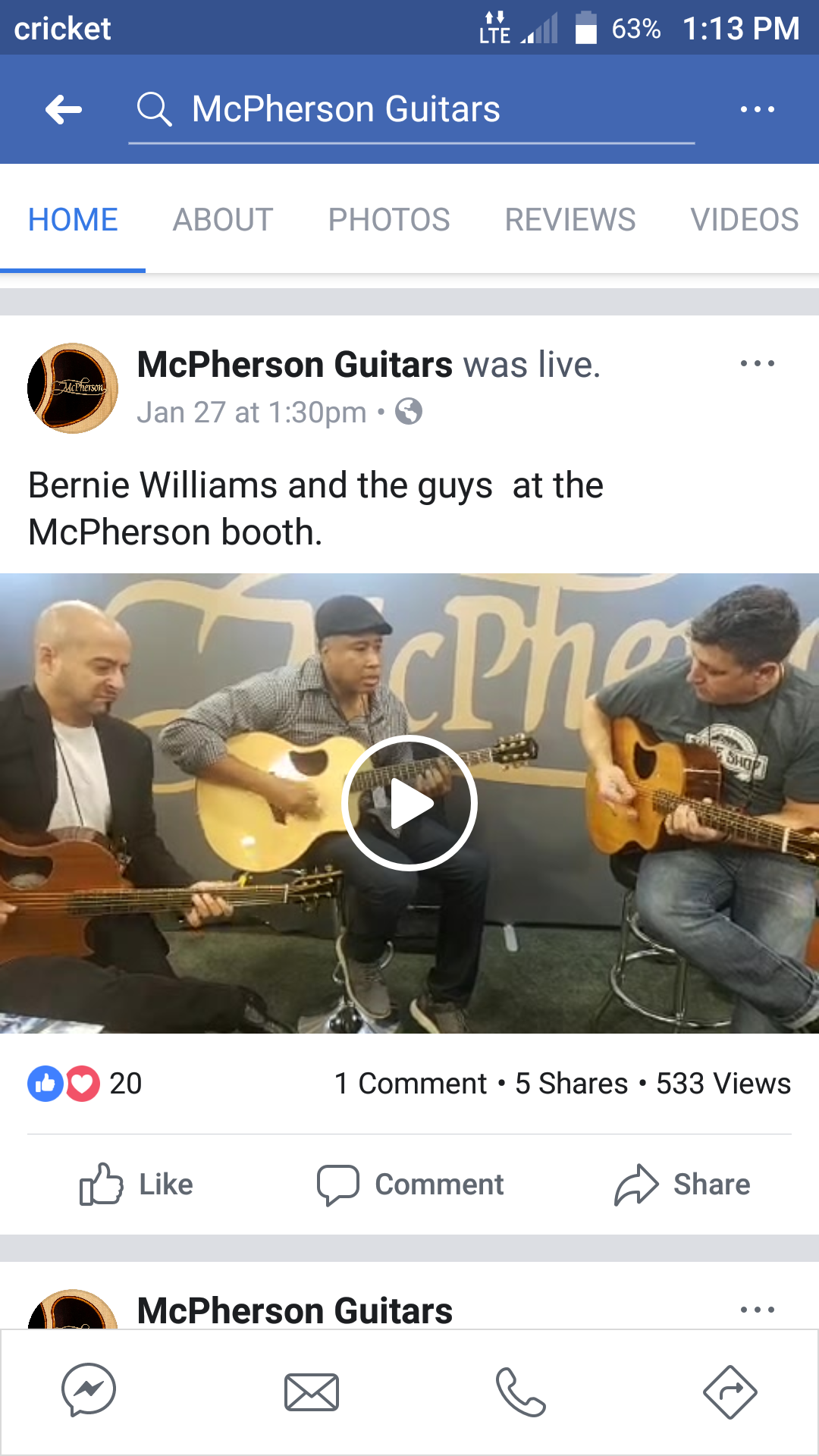 Bernie Dave and I have become good friends and I am truly grateful for their friendship and the knowledge these guys have shared with me. It was just a few years ago that I had signed the artist endorsement with McPherson guitars. And if it wasn't for Larry and Lori klenc giving me a chance I don't what I'd be doing right now. I remember being dead broke the year I signed with McPherson guitars. I couldn't even afford to get my acoustic out of the shop while it was being fixed. I was there without a guitar and without direction. And it seem like out of nowhere things changed that week. Here is Larry, Lori, and I on the day I was signed on...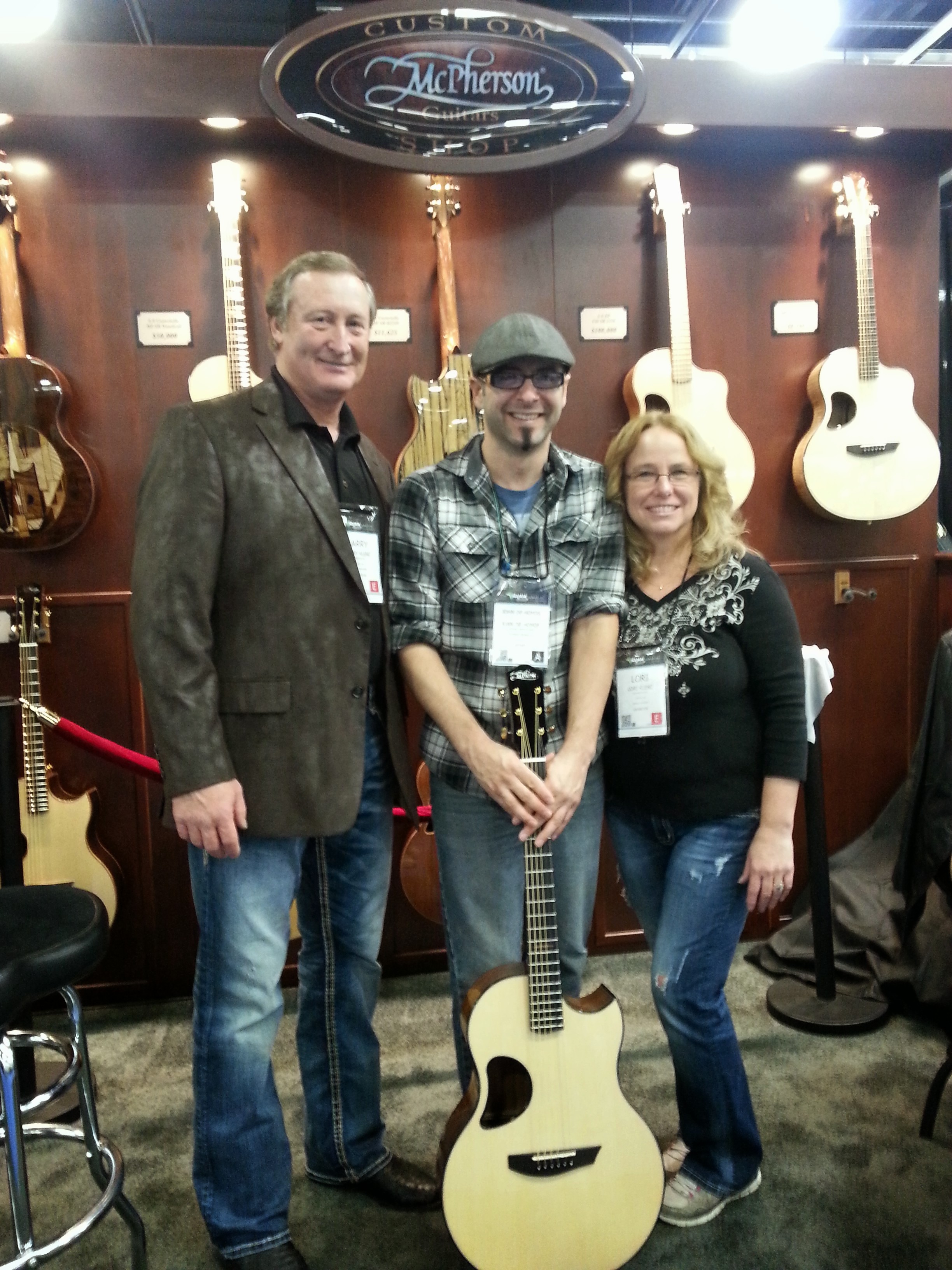 I love these people like family! They are kind hearted, genuine, and some of the hardest working people I know. How I got to the NAMM Show that week is a whole nother story I'll get to in a later blog. But They gave me a chance, and sometimes that's all it takes. Like Bruce Springsteen once said. "You can't start a fire without a spark" They gave me that spark that has started a fire that's been burning bright ever since. Of course it's still hard there are plenty of challenges in this business, however I will forever be grateful to them for their friendship and the opportunities they have given me. 
      There where plenty more Shenanigans with my McPherson family that week! Here's one of my favorite pictures of all of us at dinner during Lori's birthday!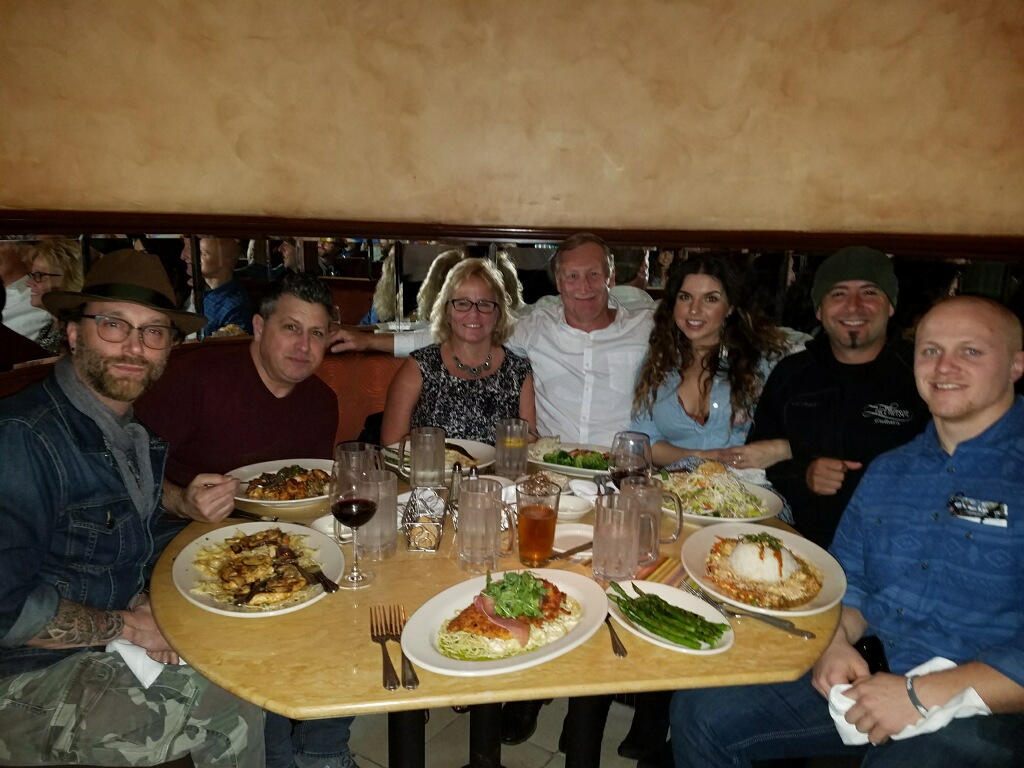 Dave Baker far left, Dave Cleavland next to him, the birthday girl herself Lori, then Larry, Suzi Oravec, myself, and then my dear friend Daniel Moorehead. Who will be making an appearance here in my next blog. As he was traveling with me for all this insanity, and later we headed out together on an awesome roadtrip back to Ohio.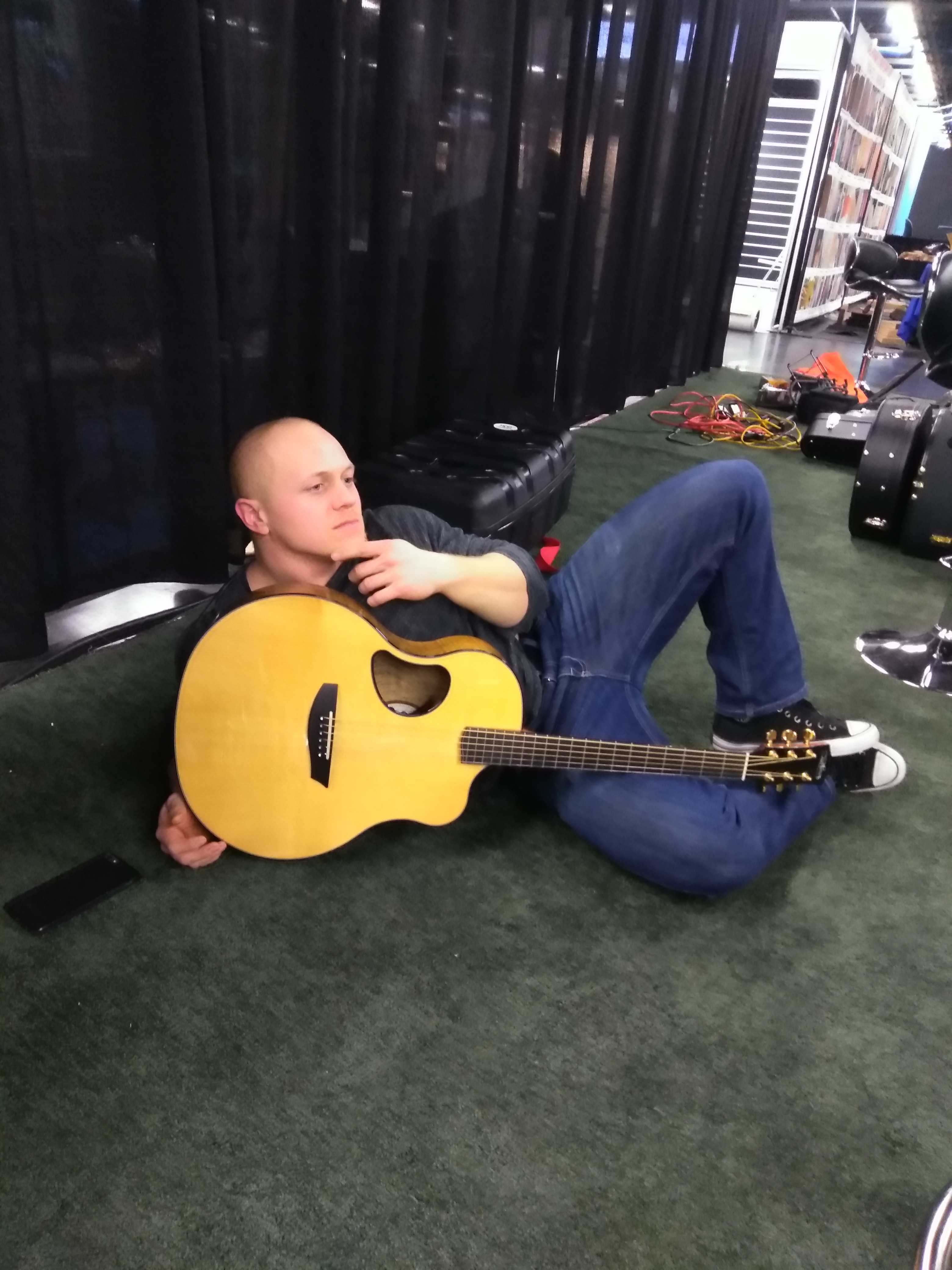 Here he is now embarking on his new modeling career! Sorry Dan! Couldn't help myself LOL!